What Are the 2019 Volkswagen Beetle Colors?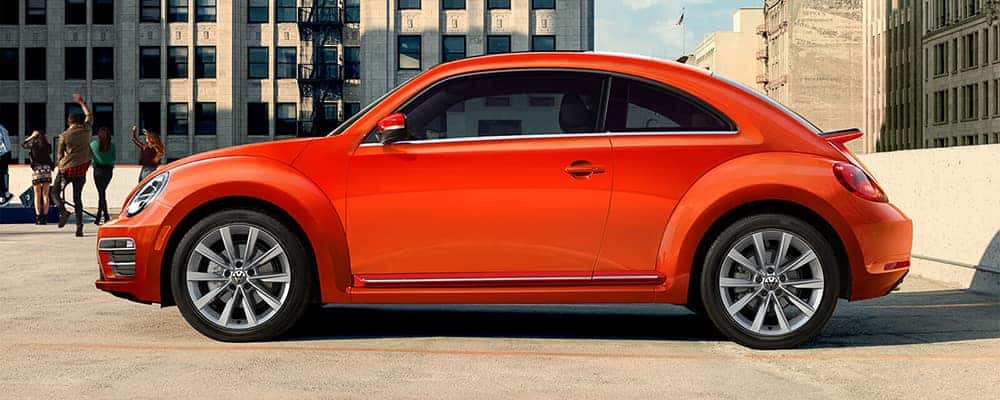 The 2019 Volkswagen Beetle has all of the classic charms of the original, and although this will be the Beetle's last year of production, it's hard not to be excited about it's unique and exciting features. Of course, one of the best parts choosing this iconic model involves picking out your favorite Volkswagen Beetle color! Although no new pink Volkswagen Beetle will be arriving from the factory, we think drivers near Tysons Corner still have plenty of reasons to be excited.
Here Are the Color Options for the 2019 Volkswagen Beetle:
Habanero Orange
Tornado Red
Pure White
Platinum Gray Metallic
White Silver Metallic
Deep Black Pearl
Silk Blue Metallic
Safari Uni
Stonewashed Blue Metallic
Among these, Safari Uni and Stonewashed Blue Metallic are exclusive colors, only available on the Beetle Final Edition. The availability of the other exterior Volkswagen Beetle colors might vary from trim to trim, so be sure to contact Lindsay Volkswagen of Dulles if you have questions. It's easy to get a Tornado Red Volkswagen Beetle or a Stonewashed Blue Volkswagen Beetle, but if you're looking for a yellow Volkswagen Beetle or a model in pink, you might have to go custom!
Don't forget, you'll have the option to choose between the standard Volkswagen Beetle and the Volkswagen Beetle Convertible! A panoramic sunroof is available in non-convertible models. Other instantly-recognizable exterior features include the Bi-Xenon Headlights and the new rear spoiler.
What Are the Volkswagen Beetle Interior Colors?
The color options for the Volkswagen Beetle interior are no less exciting! Explore your options in-depth before you get behind the wheel:
Titan Black Cloth Seats
Titan Black V-Tex® Leatherette Seats
Beige V-Tex® Leatherette Seats
Dual-tone Ceramique / Black V-Tex® Leatherette Seats
Rhombus-Quilted Beige / Black Cloth Seats with V-Tex® Leatherette Trim

Only available on the Final Edition SE

Dual-tone Black / Beige Leather Seats with Diamond-Stitched Design

Only available on the Final Edition SEL

Black Leather Seats with Diamond-Stitched Design

Only available on the Final Edition SEL
On the inside of the new Volkswagen Beetle, you'll find even more iconic features! Some of our favorites include the customizable ambient lighting options, the retro-modern gauges, and a Käferfach heritage-inspired glovebox.
Find Your New Beetle Today at Lindsay Volkswagen of Dulles!
The Volkswagen Beetle colors you've been searching for are available today at Lindsay Volkswagen of Dulles, in our extensive new vehicle inventory! Still dead-set on finding a pink Volkswagen Beetle? A custom-painted model does pass through our used vehicle lineup from time to time, so don't give up the search yet.
You can also take advantage of our vehicle finder service, and we'll let you know as soon as we find the Beetle you've always wanted to own! We also have details on the Golf R color options.
More About Volkswagen Model Features