How Does an Oil Change Work?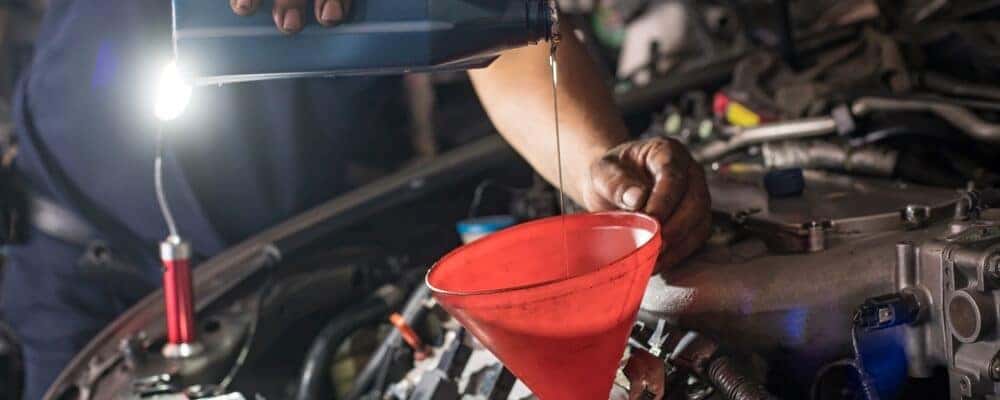 Sterling drivers know it's important to maintain their vehicles, and one of the best ways to do that is by getting regular oil changes. Whether synthetic or conventional oil, you can choose whether to do this yourself or with affordable help from the service center at Lindsay Volkswagen of Dulles. If you're the DIY type, read on to find out how you can do an oil change yourself.
Drain the Old Oil
Before you can add new oil into your vehicle, you need to remove the old oil. This is done by finding the drain plug underneath your vehicle. This is typically a large nut located under the oil pan towards the bottom of your engine. In most cases, you'll need to jack up your car in order to access the nut.
Once you've found the nut, you'll need to place a container underneath to catch the oil. The old oil will come out of this nut once you open it, so be sure you have a large enough pan to catch the old oil.
As soon as you're prepared, be sure to protect your hand with a towel or glove, and then unscrew the nut and move your hand out of the way. The old oil will start to come out and drain into your container.
Change the Filter
Once the oil has drained from the engine, you'll need to remove the old oil filter. These filters will still have oil in them, so be sure your face is not directly underneath the filter as you try to remove it. Place the old filter in the container with the old oil so you can keep it from dripping into unwanted areas.
After you've removed the old filter, be sure to put a new one to take its place. It's a good idea to lubricate the gasket with a little bit of oil. Once you've put the filter into place, put the nut back into place to secure the area.
Add New Oil
Pour the new oil into the top of the engine using a funnel. Your vehicle's manual should let you know exactly how much oil to use, so be sure to follow the directions. Once finished, look under the vehicle to ensure there are no signs of leaking.
Get Service Advice at Lindsay Volkswagen of Dulles
Changing your oil is easy, but sometimes you just don't have the time or patience to do it yourself or you aren't 100% confident you know how an oil change works. If this is the case, let the experts at Lindsay Volkswagen of Dulles do it for you. We've been helping Sterling drivers with vehicle service for years using genuine parts, so contact us to schedule your service appointment or stop by our dealership near Tysons Corner today! Be sure to check out how to to change your car battery and other tips like a guide to timing belts!
More on VW Service from Lindsay Volkswagen of Dulles
If your transmission on your last legs in Tysons Corner, you might be getting ready for a hefty transmission cost at thousands of dollars. Depending on your vehicle and transmission type (CVT, automatic, or manual transmission) the price can vary widely, but generally, a new transmission ranges between $1,800 and $3,400. On top of that, labor…

If you have a Volkswagen model in Tysons Corner and want to enhance its performance on the roads, you have several options to choose from, including genuine Volkswagen parts and accessories, and aftermarket Volkswagen performance parts. Learn more below then reach out to the Lindsay Volkswagen of Dulles parts center to ask about available parts near you! Parts Center Genuine Volkswagen…

Timing belts, also known as cambelts, are vital to the overall health of your Volkswagen vehicle. Timing belts harmonize camshaft and crankshaft rotation. If both are in sync, everything can run properly, but if they are not, it can cause serious longterm issues. Take the trip from Alexandria to the Lindsay Volkswagen of Dulles service center so you…