Which is Better for Your Car: Synthetic Oil or Conventional Oil?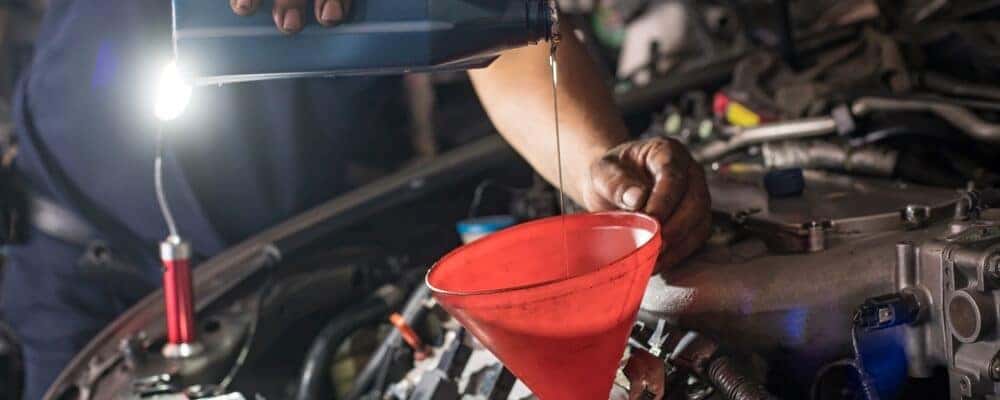 If you own a vehicle and are concerned with keeping it in good condition, you're likely somewhat aware of the debate regarding synthetic vs. conventional oil when it comes to oil changes. While conventional oils are recommended for certain makes and models, Volkswagen vehicles from model years 2004 and up require synthetic oil to operate properly. Find out why synthetic motor oil is a better option for your vehicle, and count on the VW service center at Lindsay Volkswagen in Sterling, VA for your next well-priced VW oil change.
Conventional Oil
Conventional motor oil is derived from crude oil and is able to perform several key functions for automobiles, including lubricating the engine's piston housings to reduce friction and heat, while also helping to sustain the vehicle for a long period of time.
Synthetic Oil
Synthetic oil is derived from conventional oil but utilizes additional lubricating elements in order to help further improve the performance, efficiency, and longevity of the powertrain. Synthetic oil is required for VW model years 2004 and up, and it's also recommended on high-mileage vehicles from other model years. There are quite a few specific benefits to using synthetic oil over conventional oil, including:
Better lubrication – The extra lubricants that are included in synthetic oils helps the oil maintain its slickness, even at higher temperatures. This helps improve the performance of the engine and reduces the wear and tear on its components over time.
Less required maintenance – Because synthetic oil is able to maintain its viscosity at higher temperatures and doesn't break down as easily, you don't have to get your oil changed as often as you would if you used conventional motor oil.
Less sludge and scaling on engine components – Since synthetic motor oil is less likely to break down, there is a lower likelihood of the oil leaving behind residue and sludge/scaling deposits on the engine's components.
Schedule a VW Oil Change at Lindsay Volkswagen
Dulles drivers looking to get a synthetic oil change can schedule one today at Lindsay Volkswagen, where we offer quick and professional Service Xpress and use high-quality Castrol® EDGE® Professional oil for all our oil changes. Before you come in, be sure to check out our service coupons for great deals on auto maintenance — including new wiper blades. You can find our service center at 22455 Lindsay Cars Court Sterling, VA, and you can reach us by phone at 844-230-4217. Are you the DIY type of person? Check out our guide to changing your oil to do it yourself!